2022-23 Tariff Trial
What is the 2022-23 Tariff Trial?
The 2022-23 Tariff Trial will provide customers the opportunity to test-drive tomorrow's electricity tariffs, today, and will help to shape the affordability of power prices into the future.
The next decade is going to see a lot of change come into effect as we build towards Queensland's mission to hit 50% renewable energy by 2030. We're going to see more batteries, more electric vehicles – more dependence on electricity than ever before! The 2022-23 Tariff Trial will be conducted to ensure our future electricity tariffs remain relevant and responsive to these impacts.
We're looking to test-drive these new tariffs and gain valuable insights into customer behaviours, responses, and bill impacts for future potential tariffs. This critical information will help us shape future tariffs and plans.
I've received an email invitation to participate in the trial – what's next?
The trial invitation will be sent to select customers via email. See the example below: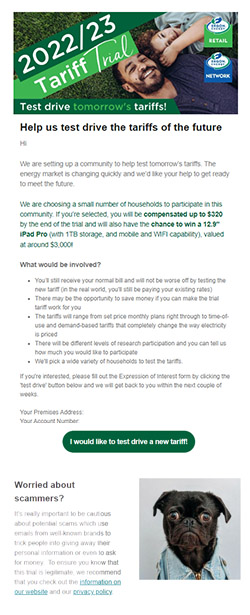 If you've received one of these invitations and you'd like to become a member of the trial community, simply answer the short questionnaire within the email invitation. We'll assess your situation and confirm if you meet our requirements to participate in the trial. We'll let you know of the outcome either way. Your personal information will be handled legally, and with respect, by us.
How are trial participants selected?
Trial participants will be hand-picked based on several factors. For this reason, the trial will be by invitation only and is not open to the public.
We'll select a broad cross-section of customers with various geographical and climatic impacts, usage patterns, financial situations, and technology factors, including customers currently using solar, electric vehicles (EV) or battery energy storage systems (BESS).
The trial will be by invitation only and is not open to the general public.
What are the tariffs being trialled?
Households across regional Queensland will be surveyed and based on this information and historical usage data, we'll identify the most appropriate tariff for each household to trial (participants with an EV are the exception).
Trial participants will be assigned one of the five tariffs to trial. The tariffs will range from set price monthly plans right through to time-of-use and demand-based tariffs that completely change the way electricity is priced.
Why trial new tariffs?
Historically, most electricity tariffs have a flat structure – where the price is the same regardless of when you use it. However, a flat tariff does not reflect that the cost of supplying electricity to your home, which does vary throughout the day. Nor does it take into account that the network itself is used more heavily during peak times (usually between 4pm and 9pm) and less during off-peak times, like in the middle of the day when rooftop solar is supplying lots of electricity to homes and businesses.
So, new tariffs are being proposed that feature structures and prices that encourage and reward customers with financial incentives to shift usage to off-peak times and better reflect the costs during peak periods.
Using less electricity during peak times helps reduce the need to upgrade the electricity network – this helps keeps electricity bills down for everyone.
We're looking to test tomorrow's tariffs today with hundreds of regional Queenslanders participating in our 2022-23 Tariff Trial. Through these trials, we are keen to ascertain if customers understand these new types of tariffs and if they can make any changes to adjust their electricity use to help manage their bills under a non-flat electricity tariff.
The trial will gain valuable insights into customer behaviours, responses and associated bill impacts for potential future tariffs. It will also look to optimise the use of emerging technologies including home battery storage power to reduce strain on the network during peak periods.
Questions? Feedback?
You can submit an online form or call us on 13 10 46, between 8:00am to 5:00pm Monday to Friday.