Can I set up automatic payments?
Yes - you can pay your bill automatically via Direct Debit or BPAY. These options also allow you to pay your bill in smaller, more manageable instalments.

Direct Debit
Direct Debit gives you the flexibility to pay your bill in the following ways:
Regular weekly, fortnightly or monthly payments
The total amount of the bill deducted from your bank account or credit card on the due date
Regular payments deducted weekly, fortnightly or monthly, with any outstanding balance deducted on the due date.
With all options, you will continue to receive a bill, so you always know where your account is at.
You can quickly and instantly setup, change or stop a Direct Debit on your bank account or credit card via My Account.
BPay
To set up a regular BPAY payment, visit your financial institution's internet banking site and follow their directions. You will need your Ergon Energy Retail BPAY details. These can be found on the back page of your bill: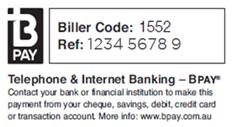 Sample only.

Please note: Your BPAY reference number will stay the same until you move your account to a new address. When you move, your BPAY reference number will change and you will need to update these details with your financial institution.