PeakSmart for retailers & installers
PeakSmart for retailers & installers
PeakSmart helps us manage peak demand on the electricity network. We're offering PeakSmart cashbacks to customers connected to our network and we'll pay you to install PeakSmart air conditioners or to convert existing PeakSmart air conditioners to PeakSmart Active.
Retailer / installer registration
Air conditioning retailers and installers must register to participate in the expanded PeakSmart program. Registration allows you to earn cashback when your customers make a successful cashback claim (see below for more information on retailer / installer cashbacks).
Register now via the form below. Make sure you have your ABN and bank account details handy. EFT cashback payments will be made into the bank account details you provide. You'll also be required to approve the PeakSmart Retailer / Installer Incentive Scheme Terms & Conditions (PDF 183.6 kb).
Customer cashbacks
Customers connected to our network who install a new PeakSmart air conditioner, or convert an existing air conditioner to PeakSmart, can apply for cashback of up to $400! Residential customers can claim the cashback for up to 5 air conditioners and there is no limit for business customers1. Please note cashback is not available on air conditioners connected to an economy tariff (for example Tariff 33 Economy).
The cashback is based on the cooling capacity (measured in kW) of the air conditioner:
$200 cashback – 4kw to less than 10kW cooling capacity
$400 cashback – 10kW or more cooling capacity
Eligible PeakSmart areas
Most residential and business customers are eligible for a PeakSmart cashback. There are some areas where customers are not able to claim a cashback because we aren't able to send signals to PeakSmart air conditioners (for example some rural, isolated community networks and end of grid areas).
To confirm eligibility for a customer go to the Eligible PeakSmart areas map and check that the premises is located in a shaded area.
Retailer / installer cashbacks
Once approved, we'll pay you for carrying out the installation or conversion:
$50 cashback - for each new PeakSmart air conditioner installed
$50 cashback – for each previously installed PeakSmart Ready air conditioner fitted with a signal receiver and converted to PeakSmart Active.
Conversion incentives
PeakSmart air conditioners have been around since 2011. So it's likely there are customers in eligible areas that already have a PeakSmart Ready air conditioner installed at their property. We're offering the same cashback incentives to customers who convert these previously installed air conditioners to PeakSmart Active as we are for new PeakSmart installations. And once approved, installers earn $50 cashback to convert these air conditioners to PeakSmart Active.
Claiming your incentive
After completing the installation, complete a PeakSmart installation form

(PDF 64.8 kb)

and give it to the customer (you can apply for up to 5 air conditioners on the one form). Make sure you nominate on the job sheet who gets the incentive – the retailer or the installer
The customer then submits their application online (Note: you can submit this application on behalf of the customer if you have their permission and know their National Metering Identifier NMI)
At the end of each month, we'll email you with a summary of your cashback payments that have been approved. To enable payment to be made, we'll then need you to issue an invoice to us for the approved amount
We'll then pay you via EFT (cashback incentives are paid monthly).
Ordering PeakSmart signal receivers
A signal receiver must be fitted to an air conditioner to make it PeakSmart Active. It's fitted either at the same time the air conditioner is installed or later as a retrofit, and only takes around 5 to 10 minutes to fit. Here's a full list of PeakSmart models.
The signal receiver can also be retrofitted to a previously installed PeakSmart capable air conditioner. The signal receiver can respond to Audio Frequency Load Control (AFLC) signals sent through the electricity network (similar to economy tariff control of hot water systems and pool pumps etc). The signal temporarily reduces the compressor's electricity consumption.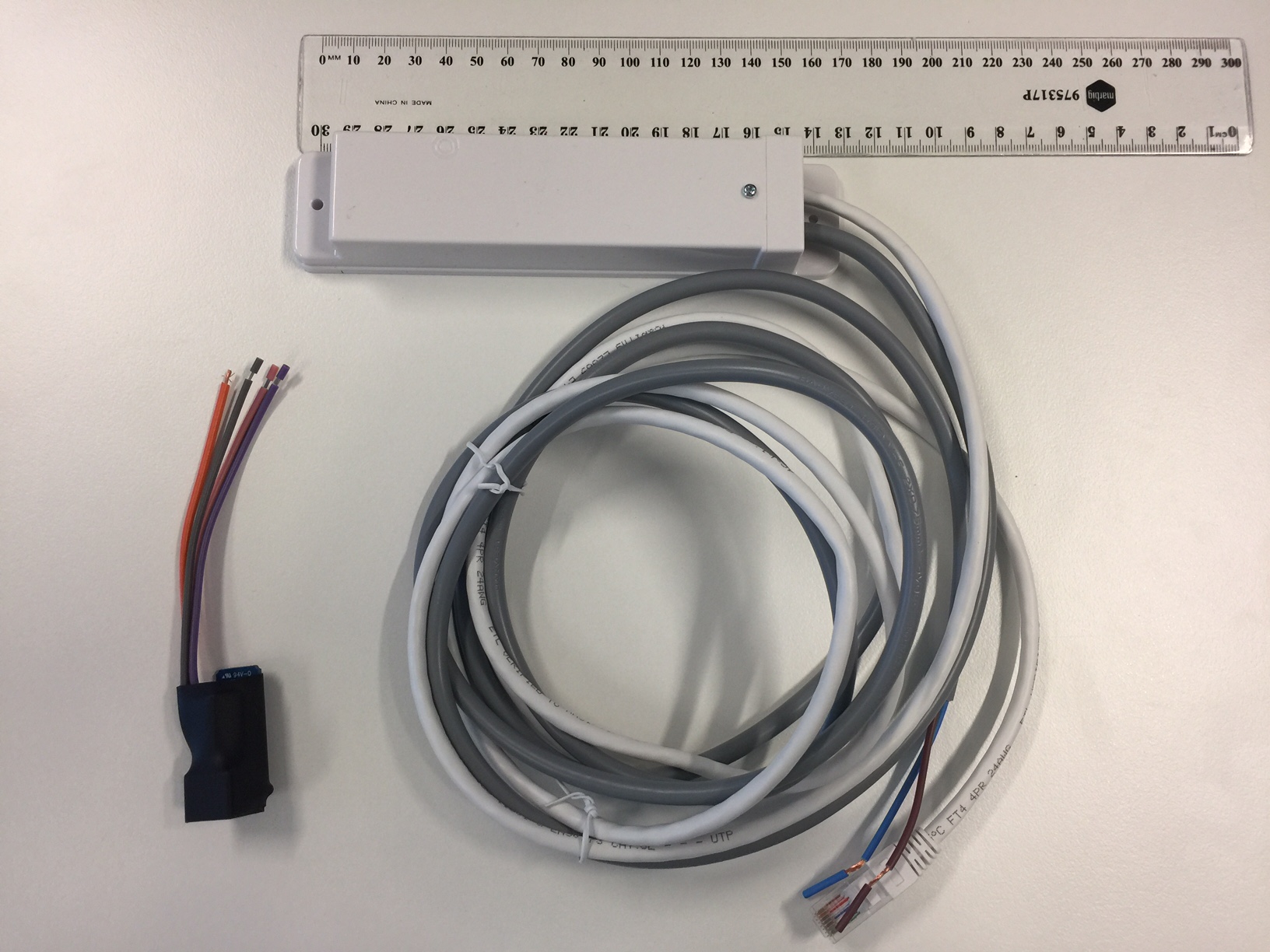 We provide the signal receivers for FREE. Installation is similar for most air conditioner brands using the Installers Manual (PDF 699.7 kb) provided by TMAC. Most air conditioner manufacturers have also developed their own installation instructions which are available to download below.
Different PeakSmart signal receivers are used across our network. So installers need to make sure they fit the correct signal receiver for their customers location. If the wrong signal receiver is installed we won't be able to control the air conditioner during a PeakSmart event and the customers cashback application may be rejected.
To find out which signal receiver to use for your customers go to the Eligible PeakSmart areas map. For more information see our Signal receiver factsheet (PDF 702.1 kb).
Before you can order your signal receivers you'll need to register for the program using the form above.
Order tear-off pads and posters
We've got A5 tear-off pads and A4 posters to help you promote PeakSmart. Email peaksmart@ergon.com.au or call 1300 550 766 to request your hard copy stock or PDFs.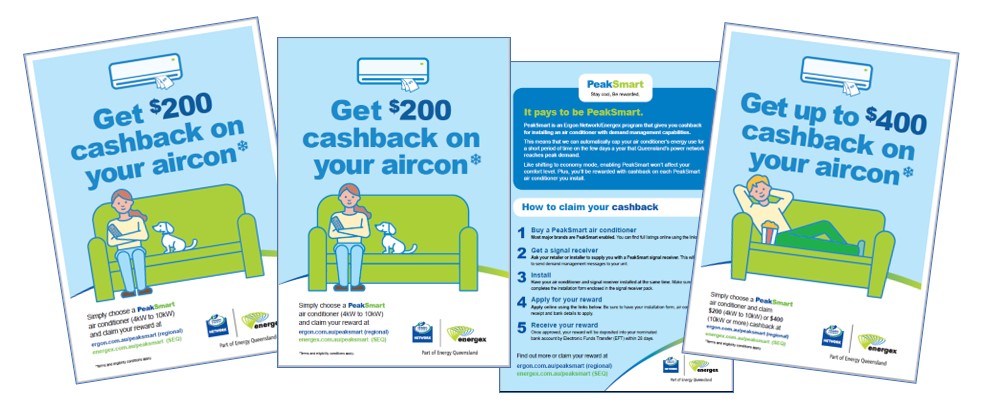 More information
There's more information about how PeakSmart air conditioning works on our PeakSmart webpage. You may also find the PeakSmart factsheet (PDF 483.3 kb) useful.
Footnotes
In some cases we may apply a limit on the number of claims that can be made.