Trees & powerlines
Surrounding your home or business with trees and shrubs can create shade, privacy and a feeling of tranquility.
But trees that grow near powerlines can also become a serious electrical hazard. During storms and high winds, nearby trees can contact or bring down powerlines, interrupting your power supply and putting you at risk of electric shock.
To protect your safety, always plant smart near powerlines. You can do this by choosing the right trees, planting them safely and maintaining all trees on your property.
Find more information in our Trees and powerlines flyer (PDF 1.8 mb)
IMPORTANT: Call us on 13 74 66 to report trees or vegetation growing too close to powerlines or power poles. If trees are close to or brushing a service line which connects power to a home, call a professional arborist or tree trimmer.
Why are trees near powerlines so dangerous?
Trees and powerlines don't mix. As well as causing damage during severe weather, electricity can also pass through trees when branches or foliage touch overhead powerlines.
An energised tree can give you a life-threatening electric shock. Hazardous voltage may also be present around the base of the tree.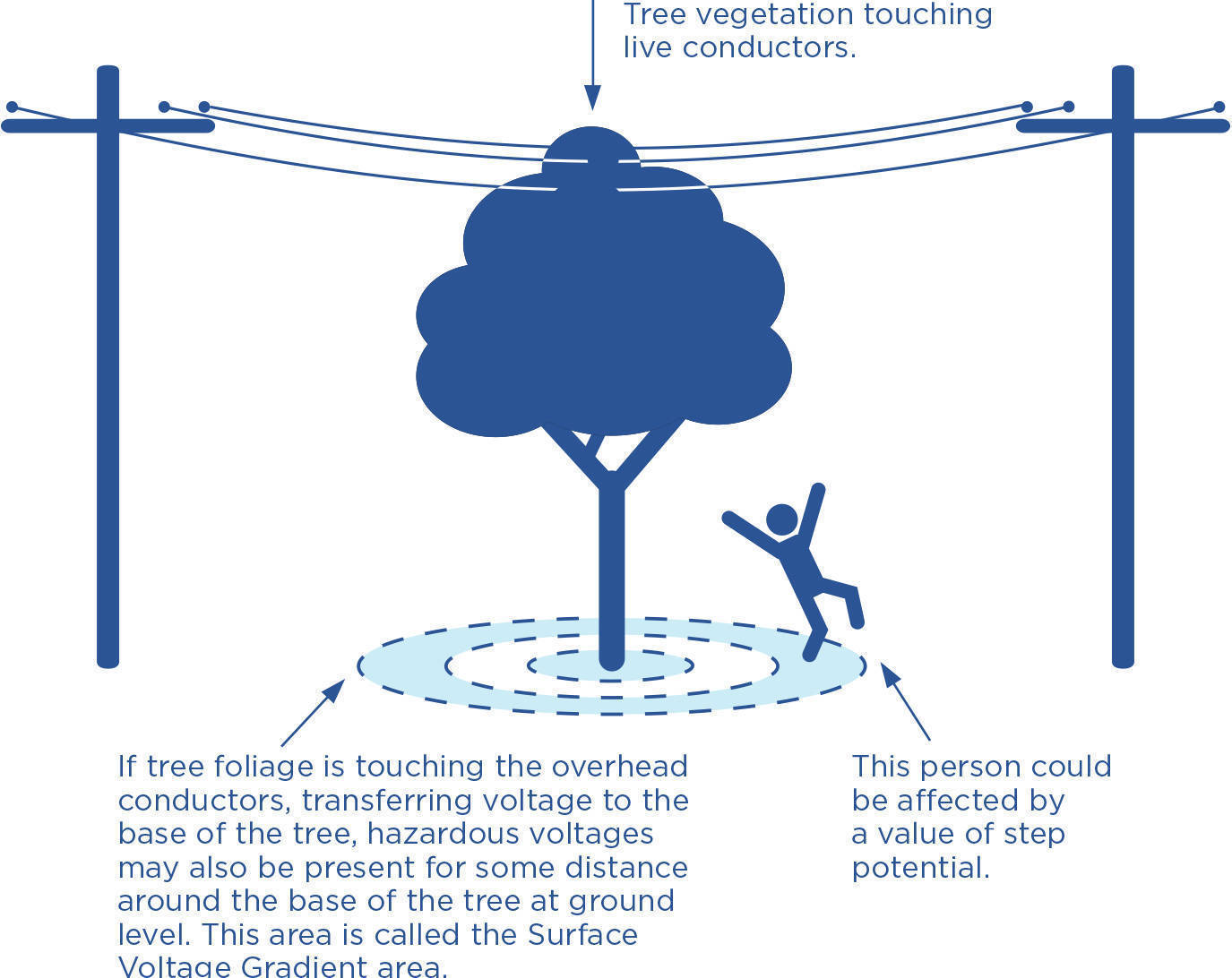 If you notice a tree that's making contact with powerlines, stay at least 10 metres away. Warn others and call Triple zero (000) to report it immediately.
How to plant the right tree
If you're planting near powerlines, make sure you choose a low-growing, powerline-friendly species. Your local nursery can help, or use our Plant smart search for powerline friendly plants in your council region.
Unsuitable trees
Some tree species aren't suited for growing near powerlines. These are commonly fast growing, tall trees or trees that drop large branches in high winds.
| Grow fast and tall | Drop branches in high winds |
| --- | --- |
| Bamboo species | Yellow flame tree (Peltophorum pterocarpum) |
| Tall palms | African mahogany (Khaya senegalensis) |
| Climbing vines | River blue gum (Eucalyptus tereticornis) |
| Tall Eucalyptus species | Weeping fig (Ficus benjamina) |
| Camphor Laurel (Connamomum camphora) | Pink trumpet tree (Tabebuia impetiginosa) |
| Pepperina/Perppercorn tree (Schinus molle var. areira) | |
If a plant on your property poses a risk to electrical safety or power supply, we may talk to you about removing it.
How to choose a safe position
Once you have selected the right tree, you'll need to plant it in a spot that reduces the risk of it coming into contact with overhead powerlines.
Find a safe place for your tree or shrub following these planting guidelines.
Plant small trees at least 3 metres away from power poles
Plant large trees further away, using a 1:1 rule of thumb e.g. a 5m tall tree can be planted 5m away, a 10m tree can be planted 10m away
Plant shrubs or small trees one metre inside the kerb where the council footway is a minimum of four metres wide
Allow for at least a 2 metre gap between the service wire to your home and the height of your mature tree.
The image below shows you how to use the 1:1 rule of thumb for planting large trees near powerlines.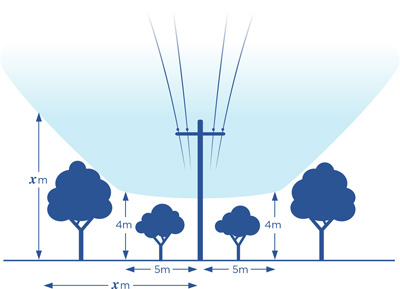 Before you start planting, you should also think about how your fully grown tree might affect:
visibility from your driveway, intersection sight lines and access to your property
pedestrian traffic, mail service and garbage truck access.
You'll also need to check:
required clearances from streetlights in your local area
your local council's planting guidelines, especially if you plan to plant on a council footpath. You might need to ask for written permission
the location of any underground cables on your property by visiting Before You Dig Australia.
About our vegetation maintenance program
To make sure your power supply is safe and reliable, we'll regularly trim and maintain the trees that grow around our powerlines.
Where possible, we'll train branches away from powerlines and use best-practice pruning techniques to improve tree health. In some cases, we might still need to remove large trees and shrubs.
Vegetation maintenance on your property
Occasionally, we might need to enter your property to maintain vegetation. For example, to trim a tree in your yard that's growing into the safe clearance space around street powerlines. Normally, we'll do this for you free of charge.
IMPORTANT: Always hire a professional arborist or tree trimmer to cut back any vegetation growing near powerlines. Never attempt to do it yourself.
Clearing trees near powerlines
If you are going to use machinery to clear trees near powerlines, contact us for safety advice or by calling us. We can help you manage any risk of trees falling across powerlines.
Want more information?
Download our electricity safety guide (PDF 1.8 mb) as a handy electrical safety reference.
For more on electrical safety and vegetation, visit the Electrical Safety Office website.
Related cards