We have launched a recruitment drive for a new call centre in Mackay – our third in regional Queensland.
We're hiring! Ergon Energy Retail announces Mackay call centre
Ergon Energy Retail has launched a recruitment drive for a new call centre in Mackay – our third in regional Queensland.
General Manager of Retail Service and Operations Martin Seri said a team of 30-35 people would be based at the new contact centre, which demonstrated Ergon Retail's commitment to delivering outstanding local service.
"We are 100% Queensland-owned and operated with well-established call centres in Townsville and Rockhampton, so the thriving regional centre of Mackay was the next logical step, which is good news for local job seekers and our customers," Mr Seri said.
"If you're a customer service professional with great communication skills looking for an opportunity, I'd encourage you to apply, even if you haven't worked in a call centre before.
"We offer competitive pay and conditions in a fantastic work environment that offers structure as well as flexibility, along with all the training you need to succeed.
"Many of our employees have been here for quite a long time - it's not unusual for us to see employees with a decade or more of service and that's because it's a great place to work."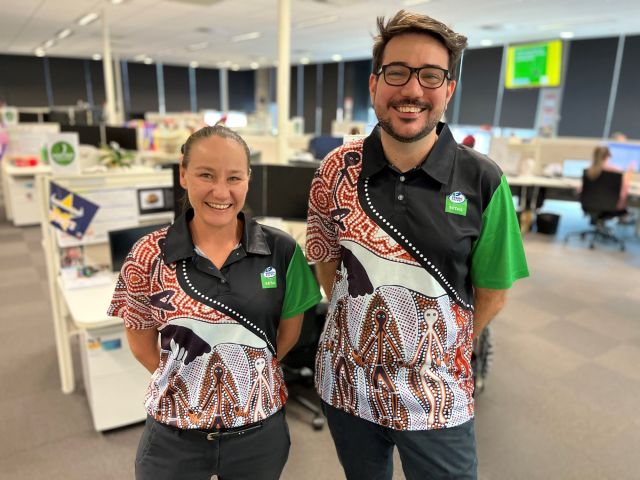 Photo: (L-R) Ergon Energy Retail team members Maree Pearson and Nick Thomason at the Customer Solutions Centre in Townsville.

Mr Seri said joining the Ergon Retail team as a call centre operator could be a launch pad for an exciting career in energy.
"I started in the call centre 15 years ago and honestly there is no better teacher than spending time talking to customers.
"It gives you a really good grounding in the energy industry and once you've built up that experience there could be opportunities to expand your career into the areas that interest you most," he said.
While the new recruits will be based in a central location, Ergon Retail also has the capability to support remote work arrangements when required.
"As we've seen during the pandemic and in our response to natural disasters, it is essential to have the ability to work remotely when needed, so we have the technology and core systems in place for that," Mr Seri said.
For customers, the new Mackay call centre is another example of Ergon Retail's connection with regional Queensland and the team's understanding of diverse communities with unique needs.
"We have deep roots and a real appreciation of regional Queensland because we're part of our communities - our families, friends and neighbours are also our customers.
"There's such a strong sense of community and customer service when you work here and we're also very proud to be an employer of choice for regional Queenslanders," Mr Seri said.
Transcript
Hi, I'm Marty from Ergon Energy Retail. I'm the General Manager for Customer Service and Operations for the retail business.
Today I've got some really exciting news. We're about to open a new centre in Mackay to go along with our Townsville and Rockhampton sites. We're looking for call centre professionals who love customer service. If you haven't worked in a call centre before, that's fine, as long as you love talking to customers and have a basic understanding of computer systems and telephony systems.
The application details can be found down below (www.energyq.com.au/careers) and we look forward to receiving lots of applications for this really exciting opportunity.