Exclusion zones
An Exclusion Zone is a safety envelope around an overhead powerline. Exclusions zones keep people, operating plant and vehicles a safe distance from energised overhead powerlines.
No part of a worker, operating plant or a vehicle should enter an exclusion zone while the overhead powerline is energised (live).
Exclusion zone measurements depend on the voltage of the powerline, type of work being performed and qualifications of people involved.
Generally, workers and their equipment must maintain exclusion zones around powerlines as follows:
3 metres for voltages up to 132kV
6 metres for voltages up to 330kV
If the work that you and your staff are planning has the potential to encroach into powerline exclusion zones or if you are unsure, contact us for safety advice before starting the job.
These exclusion zones can be reduced if the worker has been trained and approved as an Authorised Person. Contact us for information on how to become an Authorised Person.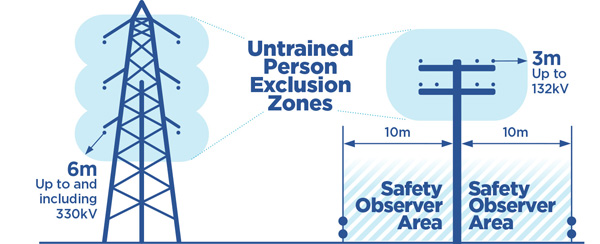 Powerline Safety Planning Tool
To help you plan ahead and take appropriate actions to safely work around powerlines, visit our Powerline Safety Planning Tool - an interactive map that displays powerline locations and imagery.
The planning tool can help you plan your work near powerlines to minimise contact with powerlines to help reduce the risk of injury or death from electrocution and damage to equipment and our electricity network. Plus, you can request safety advice, organise de-energisiation or relocation of powerlines and the application of powerline markers.
It's a simple tool to assist you to safely plan and/or perform work around the electricity network by displaying:
Overhead powerline locations and imagery via an interactive geospatial map
Powerline safety guidelines, including powerline exclusion zones
Options for planning or performing work e.g. powerline visual indicators
Safety advice and high load forms
Dial Before You Dig enquiry.
Safety observer zone
A Safety Observer Zone is the area where machinery or equipment is operating where any part of the machinery or equipment COULD enter the exclusion zone. A trained safety observer MUST be used if the equipment can reach the exclusion zone. Encroachment into the exclusion zone is strictly forbidden.
To ensure the equipment does not come within an unsafe distance, we recommend that a Safety Observer Area of 10 metres be delineated either side of overhead powerlines. A Safety Observer SHOULD be used when machinery or equipment is operating in the Safety Observer Area.
Safety observer
A Safety Observer or spotter is a person who:
observes the operating plant, and
advises the plant operator if it is likely that the operating plant will enter the exclusion zone for an overhead powerline.
Safety Observers undergo specific training and must be competent to perform the role in observing, warning and communicating effectively with the plant operator. Contact us for information on how to become a qualified Safety Observer.
More information
The following documents are provided by us as guidance/reference material and the person, worker or PCBU retains responsibility for ensuring that they are meeting their duties under the relevant legislation.