Electricity entity requirements
The Electricity Entity Requirements: Working Near Overhead and Underground Electric Lines sets out our requirements and provides guidance to anyone who may be contemplating working or operating plant near any of our overhead or underground powerlines (refer Electrical Safety Regulation Section 68).
Download your copy of the Electricity Entity Requirements (PDF 725.9 kb).
Overhead powerlines
Comply with Electrical Safety Code of Practice 2010 Working Near Overhead and Underground Electric Lines and apply the hierarchy of control to eliminate or minimise the risks of a person, mobile plant or vehicle encroaching within the exclusion zone or into contact with overhead powerlines. Specific guidance is provided for work involving LV service lines, operating plant, scaffolding and high load transportation.
Underground electrical assets
Obtain current Dial Before You Dig plans of our underground assets within the work site area and use appropriate non-mechanical excavation methods to locate underground electrical assets before permitting commencement of civil works or mechanical excavation at site. Ensure compliance with the minimum separation distances of other underground services from our underground electrical assets.
Excavation or civil works
Undertake excavation, trenching, directional boring, hydro vac operating or blasting work in a manner that minimises the risk of compromising the structural integrity of nearby poles and stay foundations, and damage to underground electric assets at site.
Building near powerlines
Before the commencement of work (regardless of whether or not local council approval is required), you must confirm that the proposed construction work does not breach the minimum statutory clearance distances. This includes for example, buildings, structures, signs, cranes and scaffolds. Refer Queensland Electrical Safety Regulation 2013, Schedule 4 and 5 for information on how close you can build to overhead or underground powerlines.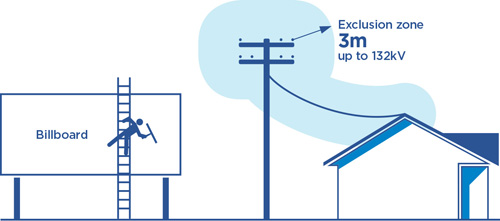 A land owner is responsible for compliance with Easement and Wayleave conditions that provide us with right of access to install, operate and maintain overhead and underground electricity assets on designated areas of privately owned land, as well as restricting the nature of development or use of that land.
Download our Working safely around electricity for buildings, structures and billboards flyer (PDF 1.4 mb).
Damage reporting
Immediately notify us of any damage caused to overhead or underground electric lines via our online Report a Problem form or calling 13 74 66.
Frequently asked questions
Download our Frequently Asked Questions (PDF 69.6 kb)
More information
The following documents are provided by us as guidance/reference material and the person, worker or PCBU retains responsibility for ensuring that they are meeting their duties under the relevant legislation.