Hydrogen hubs powering remote communities feasibility project
We're looking at ways to reduce our emissions in our isolated networks by investigating the feasibility of producing hydrogen at our power stations.
Hydrogen, when produced from renewable energy, is an emission free fuel source that can be used to produce electricity. It can be used locally as well as transported to other power stations for use - forming a hub network.
Some of our isolated communities, especially in the Torres Strait, have limited land area available for renewable energy generation. As hydrogen is transportable, it can be produced in a location where there is sufficient land area for renewable generation and then transported to other locations for energy production.
Right now, we're investigating the technical and financial feasibility of hydrogen hubs. We aren't building anything yet, we're focussing on finding the best way for hydrogen hubs to be introduced in future.
Hydrogen power
When paired with other renewables, hydrogen is a carbon emissions free method of producing electricity. Hydrogen is separated from water in a process known as electrolysis. This hydrogen is then used in a hydrogen fuel cell to produce electricity. The only emissions are water vapour and warm air.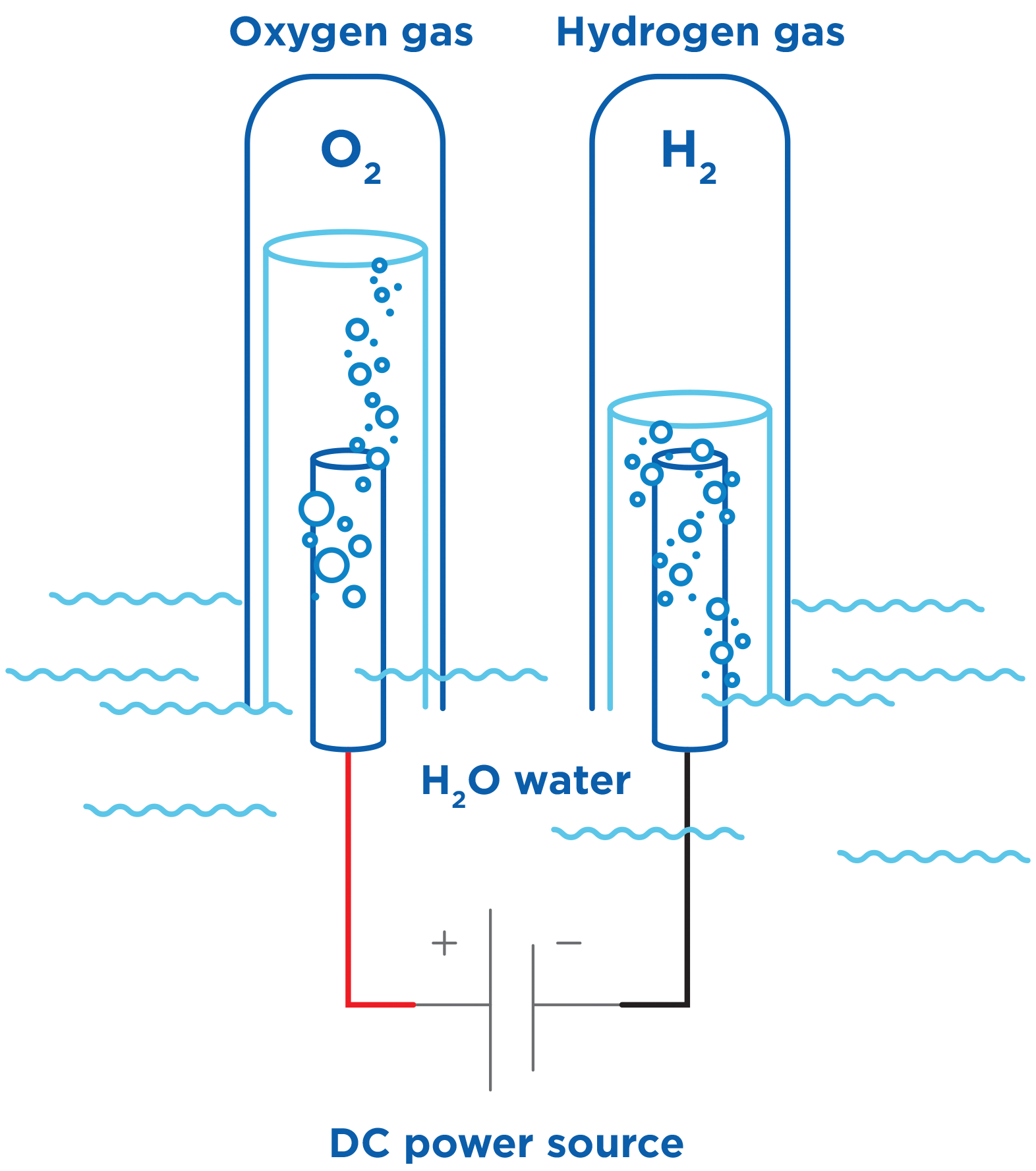 Hydrogen electrolysis is the process of running an electrical current through water to separate Hydrogen and Oxygen. See the below diagram.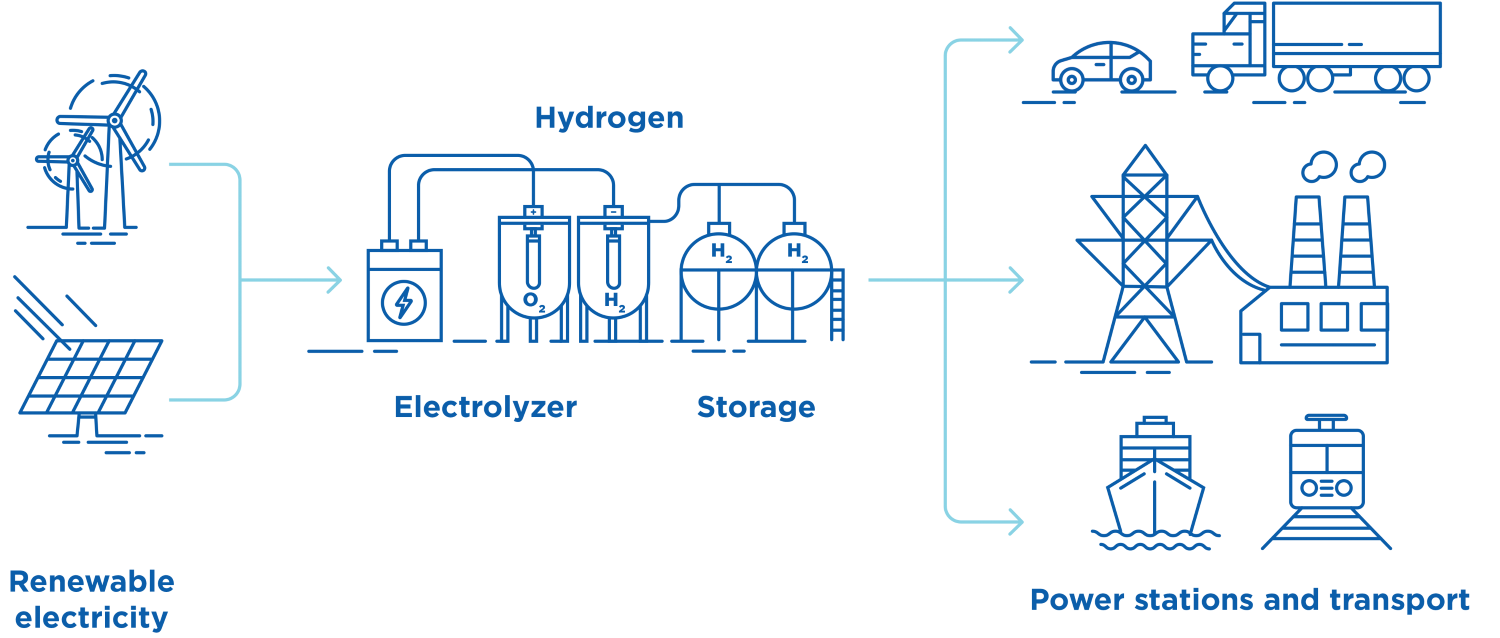 Our feasibility study
The Isolated Networks strategy for 2030 (PDF 575.3 kb) and beyond is to reduce carbon emissions and increase renewable energy production by enabling more renewable generation to be connected to the isolated networks.
Reducing isolated communities' dependence on diesel generation not only reduces emissions but increases resilience to prolonged weather events which can cause delays in fuel deliveries. Less transportation and storing of fuels minimise the environmental risk.
The isolated networks decarbonisation pathway involves several challenges which this project looks to address by finding feasible solutions to integrating more renewable energy sources into isolated networks.
Energy storage is key to enabling more renewable energy, as energy can be stored during the day when the sun is shining and used later in the evening when the demand for electricity is at its highest.
This feasibility study will be used to better understand the environmental, economic and electrical considerations of introducing hydrogen technologies into the isolated community energy mix. By investigating new technologies we ensure that we can find the right solution to help reduce our carbon emissions into the future.
Study locations
The Hydrogen Hub study will investigate two hub locations.
The first hub consists of our power stations at Thursday Island, neighbouring Horn Island and Bamaga at the top of Cape York. These power stations have been selected as they have a high electricity load and therefore a high diesel fuel demand.
Our second hub location is Palm Island located off the coast of Townsville – which could potentially be supplied with hydrogen produced in Townsville. Current federal, state and private investment indicated that Townsville could be a future hydrogen supplier and port.
Study objectives
Our Hydrogen Hubs Powering Remote Communities Feasibility Project will investigate two hydrogen hubs in Queensland.
The objectives are to:
Build business knowledge around the use of hydrogen technologies and how they can be integrated into our existing isolated power stations and networks
Determine how hydrogen hubs can help reduce carbon emissions in our isolated networks
Explore the benefits and other use cases for hydrogen in the transportation industry
Develop community awareness of the technologies and how they might play a part in delivering our commitment to a greener energy future.
Deploying new technologies to our isolated communities can be challenging and costly which is why studies like this one are an important step in determining what solutions are best for our communities, both now and into the future.
Study timeline and stages
In July 2021, we secured Australian Government funding for our Hydrogen Hub Feasibility Study under round two of the Remote and Regional Community Reliability Fund.
Our study commenced at the end of 2021 with the establishment of the project team. The study will be finalised in mid-2024 and is planned to be delivered over six stages:
Desktop study
Engaging with communities
Generation and storage concept study
Hydrogen power station integration study
Hydrogen in transport concept study
Hydrogen Hub feasibility report
Read more about the six stages of the study
Stage 1 – Desktop study
We will develop detailed models of our existing assets and their operational costs to use as a comparative baseline for the feasibility study. We will then investigate the technical and economic implications of introducing hydrogen technologies into our isolated power stations. We will look at new technologies being used around the world and consider their suitability on our isolated networks.
Stage 2 – Engaging with communities
Our community engagement will involve a range of activities including discussing the details of the project with Councils.
Stage 3 – Generation and storage concept study
This stage will look at the relevant community's energy demand information and renewable resource availability, such as solar, to determine how excess energy can be stored in the form of hydrogen to be either used locally or transported to other communities in the hub. This stage is about optimising component sizes to determine the most economic and effective model.
Stage 4 – Hydrogen power station integration study
This stage will involve a range of technical assessments focussing on what infrastructure upgrades to existing power stations are needed to produce and consume hydrogen. This will cover many aspects including physical component size, safety, training of personnel, cost and environmental factors.
Stage 5 – Hydrogen in transport concept study
This exciting stage involves exploring use cases for hydrogen in the transportation industry. Marine transportation is a large industry for both proposed Hydrogen Hub locations. We will investigate the feasibility of introducing hydrogen powered marine transportation for these locations, but also using hydrogen in other vehicles such as cars and trucks.
Stage 6 – Hydrogen Hub feasibility report
This stage involves compiling the information that we have learned through the Hydrogen Hubs feasibility study and forming a report outlining the findings. The report will explain feasible options and include a deployment plan for decision makers.
Here is a graphic of the of the project timeline.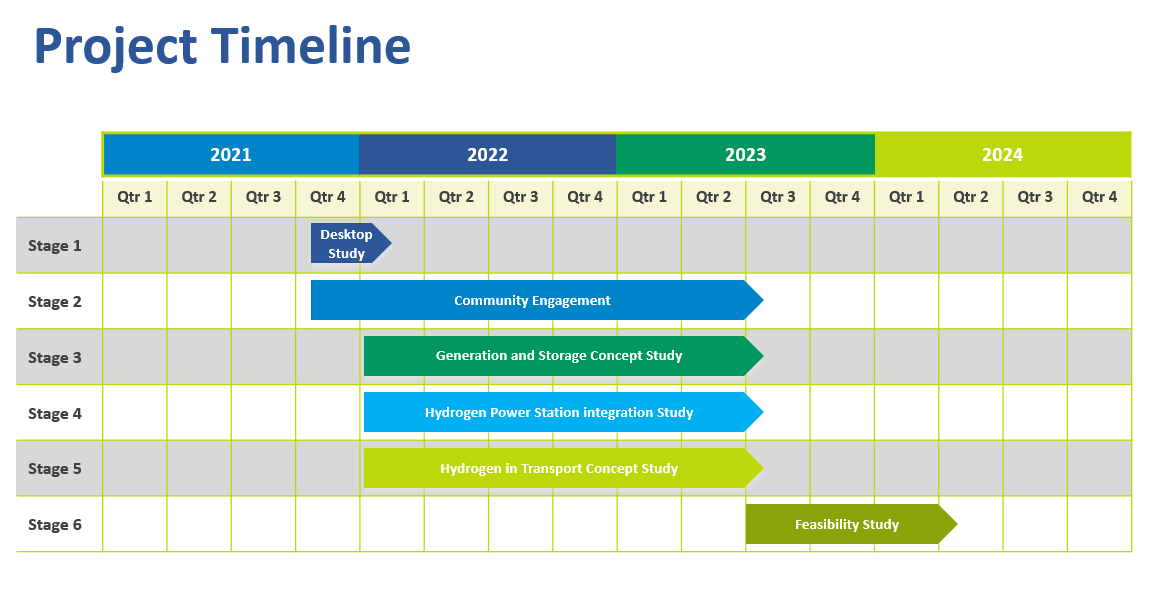 Frequently asked questions
What is hydrogen?
In the energy sector, when we use the term 'hydrogen', we mean a simple molecule made up of two hydrogen atoms: H2. It is possible to create hydrogen and oxygen from water molecules, using a lot of energy. Combining them back together releases that energy again, so generating hydrogen and then using it works in a similar manner to charging and discharging a battery.
Colours are used to describe the type of hydrogen produced by a range of chemical and physical processes - some using renewable energy, others using fossil fuels like coal and gas. Different types of energy can be used to produce different types of hydrogen:
Green – produced using renewable energy
Blue – any fossil fuel with carbon capture and storage
Grey – gas
Brown – brown coal
Black – black coal
Brown, black, grey and blue hydrogen can all result in significant greenhouse gas emissions. While 'hydrogen' may be referred to as 'the fuel of the future', it is only 'green hydrogen'—the type of hydrogen produced using renewable sources—that can play a role in our zero emissions future.
How can hydrogen be stored?
The simplest way to store hydrogen is as a compressed gas in gas cylinders similar to what is used for liquid petroleum gas (LPG). To improve the energy density of hydrogen, it can be stored in liquid form at very low temperatures or as a solid in the form of Ammonium. However, this requires further refining and energy.
How can we use hydrogen?
Hydrogen can help tackle various critical energy challenges. It offers ways to decarbonise a range of sectors – including long-haul transport, chemical manufacturing, and steel production – where it is proving difficult to meaningfully reduce emissions. It can also help improve air quality and strengthen energy security.
Hydrogen use today is dominated by industry, including oil refining, ammonia, methanol and steel production. Virtually all of this hydrogen is currently produced using fossil fuels, so there is significant potential for emissions reductions if we use green hydrogen.
In transport, the competitiveness of hydrogen fuel cell cars depends on fuel cell costs and refuelling stations. For trucks, the priority is to reduce the delivered price of hydrogen. Shipping and aviation have limited low-carbon fuel options available and represent an opportunity for hydrogen-based fuels.
In buildings, hydrogen could be blended into existing natural gas networks, with the highest potential in multi-family and commercial buildings. Longer-term prospects could include the direct use of hydrogen in hydrogen boilers or fuel cells.
In power generation, hydrogen is one of the leading options for storing renewable energy, and hydrogen and ammonia can be used in gas turbines to increase power system flexibility. Ammonia could also be used in coal-fired power plants to reduce emissions.
How can hydrogen be produced?
Hydrogen can be produced using electrolysis, which is the process of using electricity to split water into hydrogen and oxygen. This is done by a device called an electrolyser.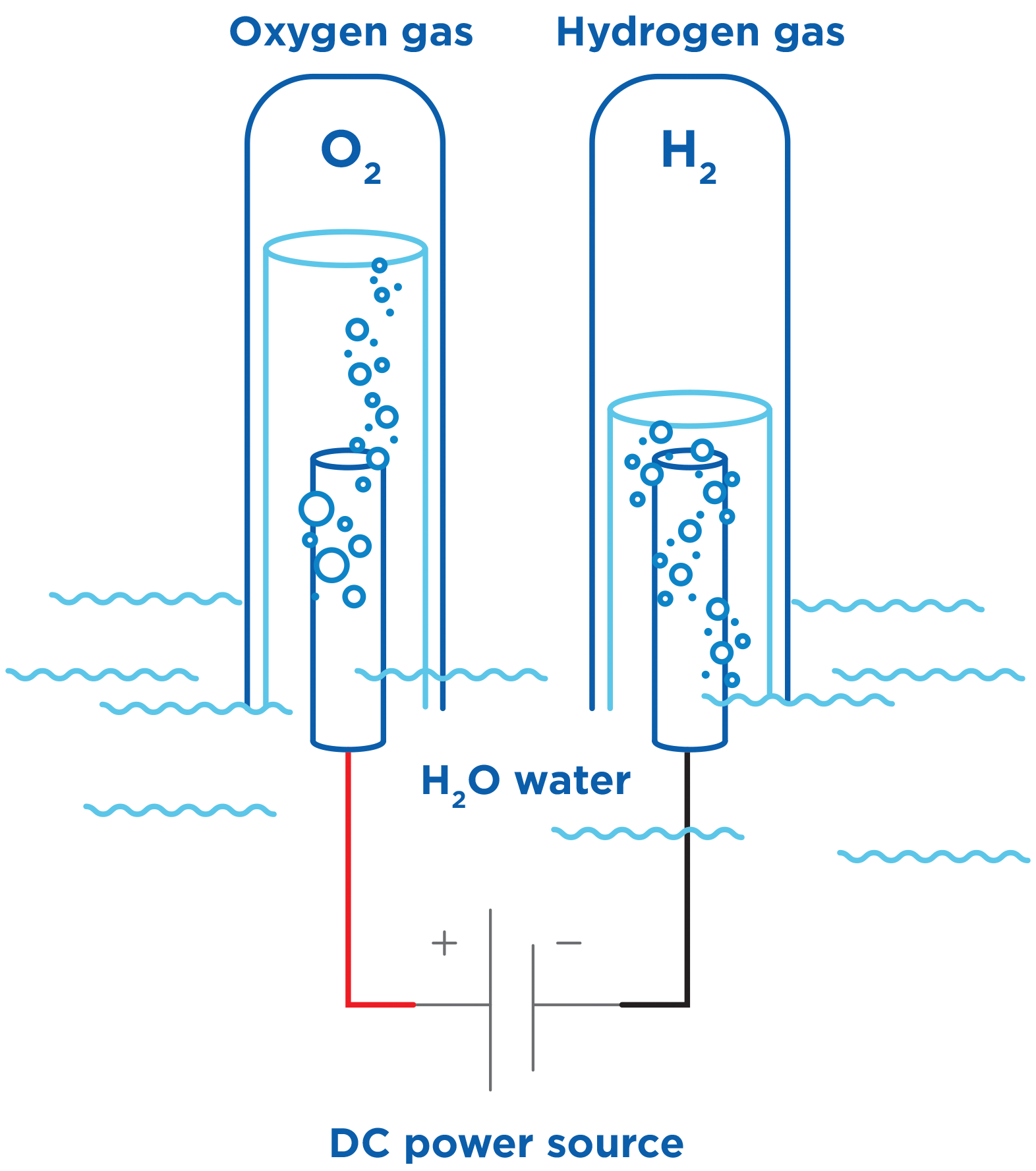 How can hydrogen be used?
Once produced, hydrogen can be used in a device called a 'fuel cell' to produce electrical energy. A fuel cell can be thought of as an electrolyser in reverse, combining oxygen and hydrogen to produce electricity and water.
Why did we choose these locations?
We chose our first hub, Thursday Island/Horn Island/Bamaga, as together they account for more than 30% of diesel emissions from our Isolated Networks. Reducing emissions in these communities is key to delivering our 2030 commitment of 50% renewables.
Our second hub, Palm Island, was selected partly due to its proximity to Townsville which has been identified as a future hydrogen supplier and port.
These locations are the focus of the feasibility project. However, the learnings from these studies will be applied broadly across all of our isolated communities.
Will we continue to own and operate any new and existing network assets?
Yes.
Will this study create jobs in our communities?
As we are in feasibility study stage, we are assessing options to reduce diesel use in the selected communities, so it's too early to say at the moment. However, supporting and recruiting for local jobs and skills are a fundamental part of how we run our business.
Who is paying for this?
The Australian Federal Government is contributing most of the funding for this feasibility study and we are contributing the rest.
Will the feasibility study recommendations make our electricity more expensive?
No. This is a feasibility study and it will not impact your current electricity prices. In regional Queensland, the electricity price is set by the Queensland Competition Authority.
If renewables are installed as a result of this study, where will they be located?
It's too early to say. However, we will work with the community and key stakeholders in any acceptable locations.
If new technologies are installed in our community, will they be reliable and safe?
Our charter is to provide safe, reliable, sustainable and cost-effective electricity.
Will there be any training on the new technology?
It's too early to say but, if training is required, we will provide it.
Our community engagement goal
We aim to provide the community with balanced and objective information to help in understanding the need for this project, our delivery approach and how it may affect people.
Our promise
We'll keep the local community informed, and we'll acknowledge and consider any feedback.
We'll provide information in different ways including:
Distributing project newsletters to directly affected customers and community members who register their interest to be kept up to date
Posting information on social media
Posting information on this website.
Get in touch with us
For more information or to provide us feedback, please contact Julie Heath our Community Engagement Manager:
Email: Community@energyq.com.au
Phone: 1300 855 054