Fringe of grid supply
We're embracing technology that helps us meet the challenges of serving remote and fringe of grid customers across vast distances and in isolated locations.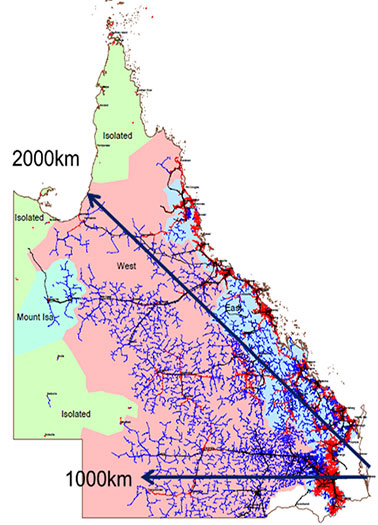 Our network has around 65,000 kilometres of Single Wire Earth Return (SWER) lines. It's one of the largest SWER networks in the world and supplies only four per cent of our customers.
The majority of the SWER network was installed in the 1970s and 1980s and is located in sparsely populated Western Queensland.
In our plan to transform fringe of grid power supply we're focusing on rural and remote customers, many of whom are connected to our SWER lines.
Providing cost-effective and reliable electricity supply in remote locations is challenging and as our remote SWER network comes to the end of its life, we're investigating and trialling alternative future supply options.
This will ensure our rural and remote customers continue to have access to safe, secure, affordable, reliable and efficient supply solutions into the future.
During this trial period, we're working with the Queensland Government, our customers, communities and other stakeholders to communicate our learnings, and develop transition strategies and new business models within the current regulatory framework.