Where we plan to invest
Where we plan to invest
To build, maintain and operate the network we have developed comprehensive investment plans for both capital and operating expenditure.
Our capital expenditure includes both 'system capex' and 'non-system capex'. System capex involves building and renewing the network, the poles and wires, and the other infrastructure we need to supply the power. Non-system or non-network related capital covers investment in fleet vehicles, property (offices and depots), tools and equipment.
Our operating expenditure covers our day-to-day operation and maintenance of the network, and other costs for activities like our customer service functions and alternative solutions for meeting electricity demand.
Join the conversation on how we should invest in future on our Talking Energy website.
Where does the money go?
The dollars presented in the following information are indicative only.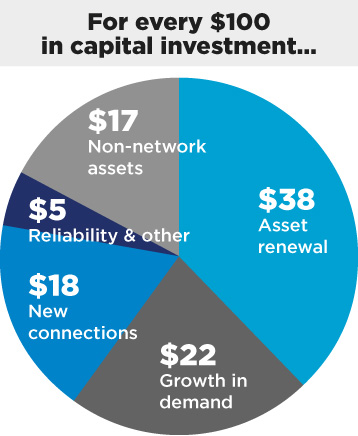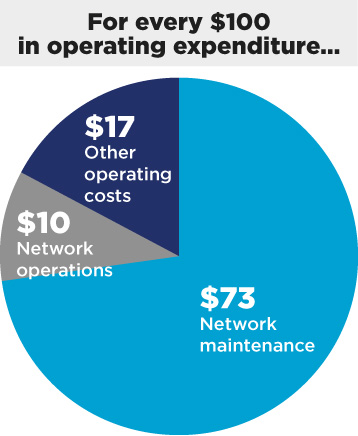 Capital investment - for every $100...
$38 goes to Asset renewal
To maintain the safety and reliability of the network we need to continually refurbish and replace assets as required. We have made big strides in understanding the state of the network and targeting this investment to deliver the greatest value.
$22 goes to Augmentation for growth in demand (corporation initiated)
While demand for electricity has stabilised, we are still planning investment in areas of Queensland that are experiencing ongoing economic growth, largely associated with the resource sector.
$18 goes to New connections (customer initiated capital works)
Overall we expect requests for new or upgraded connections to remain relatively stable. We have developed robust forecasts across all of the connections categories, from new commercial or industrial connections to metering.
$5 goes to Reliability and other targeted improvements
We are targeting investment here where we know the network is not meeting our customers' expectations (as reliability has improved we've been able to cut this expenditure). To respond to the changing needs of our customers, we are also progressively investing in new operational technologies that will allow us to better manage the network.
$17 goes to Other non-network assets
In order to service our vast area we also invest in fleet, property, equipment and tools. This is critical to maintaining our response capability day-to-day and in times of natural disaster when the strength of our regional presence is critical.
Operating expenditure - for every $100...
$73 goes to Network maintenance
We are continuing routine asset inspection and maintenance programs. Clearing vegetation from around power lines also remains a priority, both from a safety and reliability perspective. In addition, this expenditure category covers our outage/emergency response efforts.
$10 goes to Network operations
This expenditure is for monitoring and controlling the network, and other systems, 24 hours a day, 7 days a week. Our investment in operational technologies will provide greater automation of the network and help manage these costs into the future.
$17 goes to Other operating costs
These range from managing service requests from our customer contact centre to our service order dispatch teams, to other non-network activities. We are increasing our operating expenditure on alternative non-network solutions to better manage demand on the network, and looking at a new form of cyclone insurance cover.