You won't believe what can land in powerlines
Published: 3 Nov 2020 10:53am
Every summer Ergon Energy and Energex crews find something unusual in powerlines that has caused a power outage during storms.
Area Manager Matt Aberdein said tarps, plastic outdoor furniture and even trampolines were being seen more often and crews have come to expect to see the unexpected every time they head out after a storm.
"Most of the time it's tree branches or palm fronds that come loose in a storm and cause damage to poles or bring down powerlines, but anything that isn't secured becomes a potential missile," Matt said.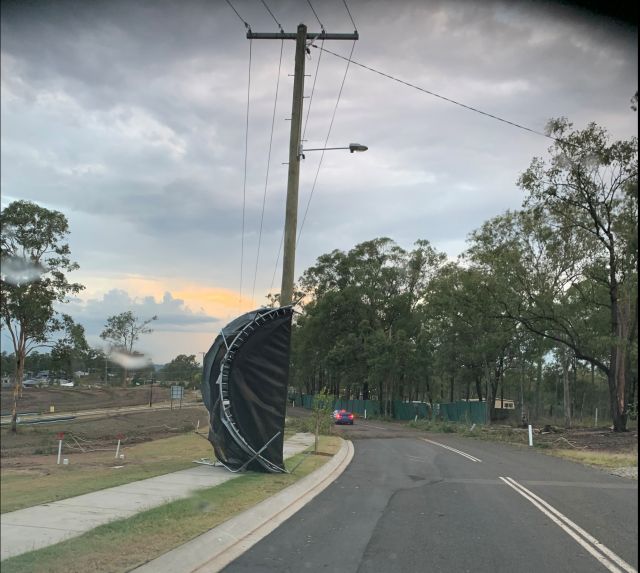 "In extreme storms the debris that flies around can be seriously dangerous - we even came across a shed that had blown into lines at Murgon a few summers back."
Matt said it was important for people to check their yards ahead of storm season and identify anything that could become airborne in a storm.
"There's always the potential for power outages during storms, but if people can reduce the risk of items flying into powerlines our crews are able to work safely and more quickly to get power back on than if they're having to remove things that are tangled up in the mess.
"If storms can launch a shed or catapult a trampoline hundreds of metres, pretty much any loose item could become a projectile, so if you hear a storm is forecast a quick clean-up could reduce the risk of injury, property damage or a lengthy power outage," he said.
Matt asked all Queenslanders to take care and stay line aware this storm season.
If anyone sees powerlines down or an item caught in powerlines during a storm, they should never attempt to remove it themselves.
"They should call Ergon on 13 16 70 or emergency services on triple zero," Matt said.
"We want all Queenslanders to be safe this summer storm season."
Media Contact:
Phone: