Shocking hazard highlighted in new public safety campaign
Published: 21 Jul 2021 9:24am
Ergon Energy has launched a lifesaving campaign to raise awareness about the importance of reporting shocks and tingles, which can be a sign of deadly electrical hazards in and around your home.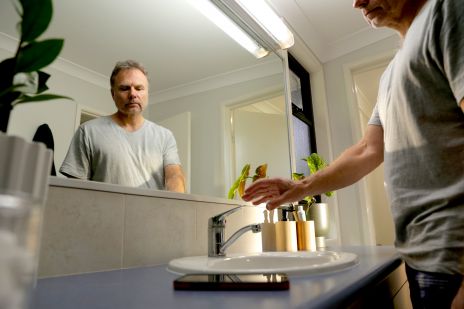 Area Manager Chris Graham said while 2309 public shocks were reported in Queensland last year, customer calls to the contact centre demonstrated an alarming lack of knowledge about the safest course of action.
"For example, we had a call from a customer who felt a shock when he touched a tap outside and thought it was hilarious, so he told his teenage nephew to try it," Chris said.
"They made a game of it until someone warned them to report it to us ASAP because shocks and tingles can indicate a life-threatening electrical fault.
"The key message in our new campaign is if you touch something that gives you a shock or tingle, the next thing you touch should be your phone. Call Ergon immediately to report it so we can send a crew, at no charge, to investigate."
Customers have also unwittingly risked their lives by using workarounds to avoid further shocks, like wearing thongs in the shower, rubber gloves when they're doing dishes or avoiding certain power points.
"We had a case where a tenant was told by a real estate agent to wear thongs after he'd received a shock in the shower. It was six months before Energex was advised of the issue.
"Another customer called to say her daughter was unable to use a power point in her bedroom because she kept receiving a zap whenever she touched it. This had apparently been going on for six months.
"Delayed reporting is usually due to ignorance, so we want everyone to understand these incidents are serious and if you don't act immediately you are putting yourself or someone else at risk," Chris said.
Customers have reported receiving shocks and tingles from indoor and outdoor taps, showers, shed doors and ladders resting on gutters.
Mr Graham said the new safety campaign countered the natural reaction for people to repeatedly touch the things that had shocked them.
"It's like they are checking to see if they legitimately felt a shock or tingle the first time, but you really need to resist the temptation to touch the tap again. Remember, the next thing you touch should be the phone," he said.
To report life-threatening electrical hazards at any time, call Ergon (13 16 70).

DROPBOX LINK to audio/video interview grabs, photos and advertisements.
Media Contact: Emma Oliveri
Phone: 0457 566 079