Security cameras capture airborne SUV
Published: 10 Mar 2021 2:09pm
Significantly beefed up real-time security camera systems at Ergon Energy and Energex depots were designed to catch thieves, but they caught something completely unexpected on film recently.
In recent weeks the cameras have captured alleged thieves being bailed up by police dogs in Ergon's Townsville depot and police officers chasing crooks through the Toowoomba facility.
The latest incident caught on camera at an Energex depot in Brisbane beggars belief.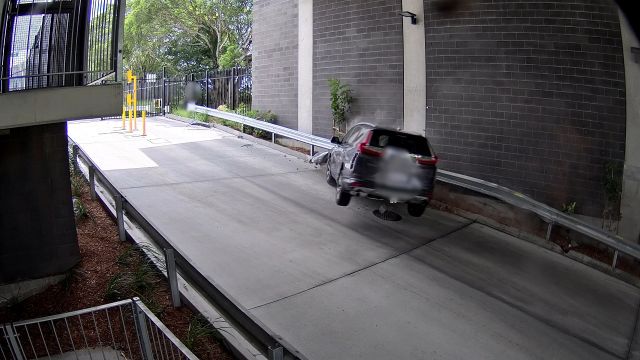 The dramatic footage shows an airborne SUV coming out of nowhere on an entrance ramp designed for speeds of below 10km/h.
With a tight left-hand bend in the ramp, the allegedly stolen vehicle's driver was, at high speed, never going to negotiate the corner before slamming into the depot's guard rails.
The footage then tells the story of a bumbling alleged crook, who fails miserably to jump a fence, appears to realise they've left their belongings in the car and then finally clambers over another fence with a four-metre drop.
This is just one of many incidents caught on the electricity distributors' new security cameras in real time at their depots around the state, including a number of onsite arrests by dog squad police.
Manager Corporate Security for Ergon and Energex, Justin Morghem said the stepped-up security measures in the companies' depots, worksites and on infrastructure were introduced after a spate of break-ins and acts of vandalism occurred around Queensland.
"You'd think the last thing anyone would want to vandalise or break into – for their own safety – would be an area known to contain high-voltage electricity," Mr Morghem said.
"Recently our security team have caught people attempting to break into substations that can have equipment energised at up to 132,000 volts and vandals have damaged equipment connected to the live network on power poles and transformers.
"However, this shocking car crash footage was something unexpected.
"With our depots now under heavy video surveillance, in many cases we have been able to direct police to offenders within minutes or at least been able to provide very high-resolution images of intruders' faces and the vehicles they used.
"While a number of these brazen crooks have been injured, a few of them have been lucky they didn't end up dead and this security is about saving them from themselves and keeping others in the community safe."
Mr Morghem also warned potential offenders the latest cameras are not always as obvious as previous generations - Ergon and Energex have invested in many concealed devices.
"With advances in technology has come the ability to integrate cameras into our buildings, poles and other equipment, making them undetectable," Mr Morghem said.
"Any potential thief looking to illegally enter one our facilities won't know where to look for cameras, but they can rest assured our security team will be looking directly at them."
Footage available for downloading from DROPBOX LINK.
Media Contact:
Phone: