Powerful tool to help workers Look Up and Live
Published: 14 May 2021 6:21pm
Ergon Energy's new Look Up and Live mobile app is designed to help reduce incidents and injuries at high-risk work sites across Queensland.
The free app pinpoints the location of 1.7 million poles and 178,000 kilometres of overhead powerlines, allowing better planning of jobs near the electricity network.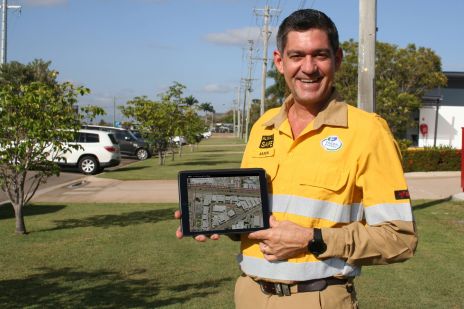 Community Safety Manager Aaron Smith said while people understand powerlines are dangerous, they don't always take them into account during their risk assessments.
"The Look Up and Live app is a simple, lifesaving tool that will help you decide which control measures are needed to protect you and your mates on site, from safety observers to physical barriers or requesting a planned power outage.
"Before you do anything you should have a look at the hazards so you can determine your next step.
"Contacting a powerline can be deadly, cause serious injuries and damage machinery – we've seen pieces of plant and heavy vehicles burnt to the ground," Aaron said.
After several hundred incidents involving contact with the overhead network in the last year, Ergon Energy is encouraging the construction, aviation, agriculture and transport industries to use the free app as part of toolbox talks or worksite induction kits.
"There's a reason our powerline mapping tool has won multiple awards for innovation - all the information you need to save lives is at your fingertips on your mobile device and we have used feedback from various industries to design an app that works for them.
"We've had some fantastic feedback from the aerial application industry that the Look Up and Live app is the best thing since the advent of GPS.
"It gives pilots another view before they do their own reconnaissance, particularly if it's a farm they're not familiar with, so they can have an informed discussion with the farmer about powerline safety," Aaron said.
The app allows users to order powerline markers and request safety advice tailored to their site.
"Part of what we're doing with the agricultural industry is encouraging farmers to take a step back and use the app to identify precisely where all the powerlines are on their properties, verify their heights and contact us for advice if they have any concerns," Aaron said.
"One incident or injury is one too many and we are working with high-risk industries to keep everyone safe around powerlines by careful planning.
"The Look Up and Live app is a powerful addition to the toolkit."
Media Contact: Emma Oliveri
Phone: 0457 566 079