Ergon Energy supports beacon of hope in the bush
Published: 31 Jul 2020 2:15pm
Ergon Energy is supporting the Royal Flying Doctor Service and their lifesaving work through the installation of aircraft tracking equipment at 16 remote sites across Queensland.
Antennas have been fitted to Ergon buildings at Aurukun, Barcaldine, Birdsville, Boulia, Burketown, Cunnamulla, Emerald, Georgetown, Hughenden, Kowanyama, Lockhart River, Normanton, Richmond, St George, Thursday Island and Windorah.
The additional sites will boost the amount of information available to RFDS and assist with estimating arrival times.
Executive General Manager Distribution Paul Jordon said Ergon was pleased to be able to provide practical support to an organisation which gives hope to patients in the bush.
"We've seen first-hand the difference the Flying Doctor makes to people's lives and we're proud to play a role in the expansion of the SkyNet Initiative," Mr Jordon said.
RFDS State Operations Manager Charlton Campbell said he was grateful for Ergon's assistance with the project, which was designed to improve visibility of its fleet across Queensland.
"The installation project allows us to track all RFDS aircraft in real-time which means we can make more informed logistical decisions, especially when it comes to liaising with ground crews like Queensland Ambulance or other emergency service providers," Mr Campbell said.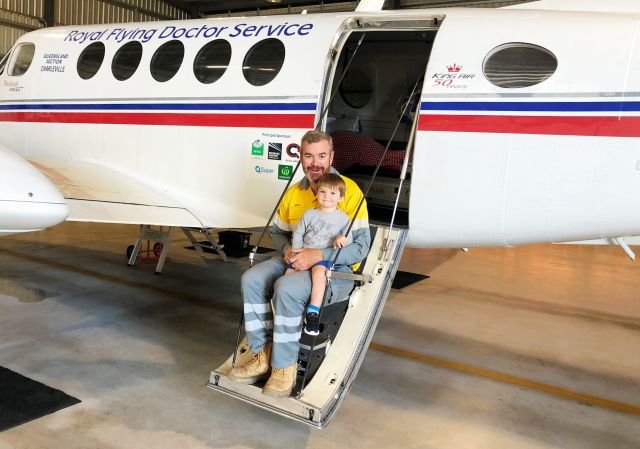 For Ergon Work Group Leader Brent Alexander, who has lived in his beloved Charleville most of his life, the RFDS offers peace of mind in an emergency.
"When my one-year old son Dougal became ill and doctors were struggling to treat him locally, the RFDS were called upon to fly Dougal and my wife to the Children's Hospital in Brisbane at short notice.
"Thankfully, after a couple of weeks of treatment Dougal made a fast recovery and is now fine, but it made me realise that without the RFDS I could be forced to decide between living in my home town close to family and friends, and access to advanced health care," Brent said.
Those sentiments are echoed by Ergon field crews living and working in remote communities across the state.
"We know from experience that whatever we can do to support the RFDS is worth doing," Mr Jordon said.
Media Contact:
Phone: