Ergon and QFES urge extra caution during hazard reduction burns near electricity assets
Published: 13 Oct 2021 2:48pm
Ergon Energy and Queensland Fire and Emergency Services (QFES) are urging property owners to take extra precautions while conducting controlled burns near the electricity network.
Area Manager Matt Hilder warns that fire damage to power poles presents a number of safety issues in the immediate area, as well as to the wider community.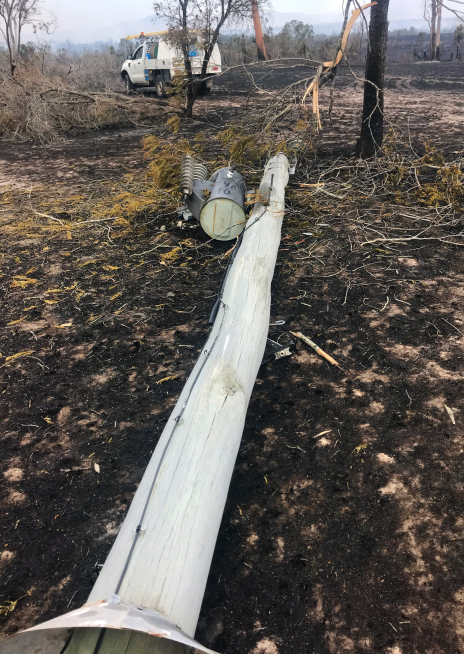 "If a hazard reduction burn gets out of control and brings a power pole down, it can obviously cause injuries or worse if it falls on someone. Fallen powerlines can also cause a serious safety issue for people and livestock in a much broader area," Mr Hilder said.
"Just as troubling is a power pole that's only partially burnt because it may be significantly weakened and potentially snap during high winds or storm activity without warning.
"Network damage from fires not only presents dangers for those in the immediate vicinity, it can also cut supply to other local residents, or even an entire district, for extended periods until it's safe for our restoration crews to enter the burnt area," he said.
Rural Fire Service (RFS) Assistant Commissioner John Bolger said taking precautions before and during hazard reduction burns could significantly minimise the risk of damaging property and electricity infrastructure.
"I urge landholders to be aware of their surrounds and remain vigilant to ensure yourself, your family and your property are kept safe while conducting any bushfire mitigation work," he said.
"To minimise the chances of fire damaging power poles and property, I would encourage property owners to trim or clear any long grass, foliage and rubbish within a three metre radius of their electricity infrastructure and remain with any controlled burns they carry out.
"If your council area is not currently drought declared, dampening the cleared three metre radius with water can also reduce the chances of accidental damage to property.
"It is important to note that it is illegal to leave any controlled burn unattended and permits must be obtained from your local Fire Warden before you light up.
"For more information around bushfire preparedness head to ruralfire.qld.gov.au."
In the event of a fire always dial triple zero (000).
Media Contact:
Phone: