Electrical safety is key as you light up for Christmas
Published: 25 Nov 2021 9:58am
As Queenslanders prepare to light up their homes and neighbourhoods for Christmas, Ergon Energy Network is urging everyone to ensure it's done with electrical safety in mind.
Area Manager Trevor King said Christmas lights were essentially an electrical appliance and should be treated with the same level of caution as other powered devices in the home.
"What people should remember when setting up Christmas lights and other mains-powered decorations is they are working with electricity and it can be dangerous if the appliance is faulty or they don't take care," Mr King said.
"With this in mind, we're urging the community to check their decorations for faults or frayed cords before plugging them in and if they have any concerns, they should get them checked by a qualified electrician or throw them away.
"If you're buying new lights or electric decorations ensure they meet Australian safety standards, which should be displayed on the packaging. Quality lights are only marginally more expensive but can help prevent electrical hazards and other issues, such as house fires.
"We're also asking people to ensure if they're using powered decorations outside that they are rated for outdoor use because if indoor-only rated lights get wet they can pose a safety risk."
Mr King also said in the past crews have noticed people placing decorations, including lights, on Ergon's equipment which can not only endanger those installing them, but also crews who have to work on the power network.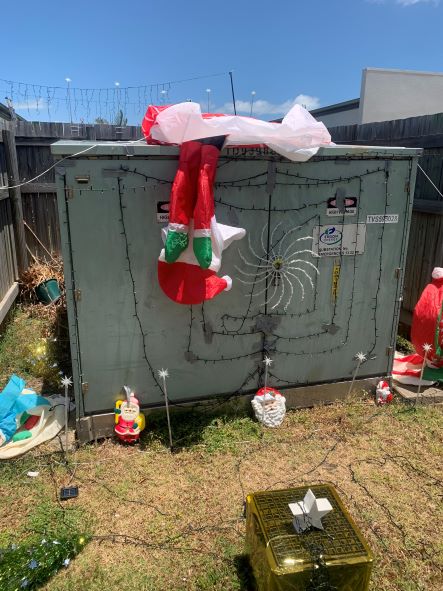 "Each Christmas we've seen everything from lights to inflatable Santas tied to our power poles, padmount transformers and other equipment," he said.
"Our crews love Christmas decorations as much as anyone, but anyone placing them on our network may not only inadvertently be putting themselves at risk, when our crews need to access the equipment it causes another hazard for them while they're responding to already dangerous situations, such as storms and floods."
Media Contact:
Phone: