Driving home lifesaving messages
Published: 18 Aug 2021 10:31am
Ergon Energy and Energex are driving home some lifesaving messages during Queensland Road Safety Week after an alarming series of incidents involving cars, trucks, agricultural vehicles and machinery.
Community Safety Manager Aaron Smith said any contact with powerlines was potentially deadly and drivers should be on the lookout for power poles, pillar boxes and padmount substations.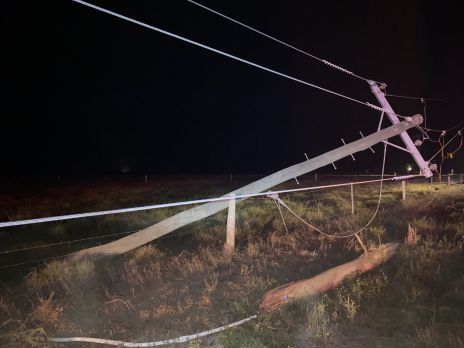 "If you're working near overhead powerlines, use our Look Up and Live app to plan the job safely.
"We want you to avoid hitting electrical assets in the first place, but it's also important you know what to do in the worst-case scenario.
"If you're involved in an incident that brings down powerlines or exposes underground cables always assume the wires are live and STAY, CALL, WAIT. Stay in the vehicle, Call 000 and Wait for help.
"The best thing any bystanders can do is never touch the vehicle because the outside of it could be live, call 000 and stay at least ten metres away from any fallen powerlines," Mr Smith said.
In the last fortnight Ergon and Energex crews have responded to incidents across the state, including:
Vehicle hit power poles and brought down powerlines in Cairns and Bundaberg
Vehicles hit pillar boxes, exposing live parts, in Cairns, Bundaberg and Nambour
Vehicles hit streetlight poles, exposing live parts, in Brisbane, Gold Coast and Calen
Cane haul-out vehicles contacted overhead powerlines at Ingham and Mossman
Trucks with high loads contacted overhead powerlines at Gordonvale and Ingham
A crane brought down powerlines at Beecher, near Gladstone
A trenching machine contacted an underground high-voltage cable in Brisbane
Mr Smith said drivers cannot afford to overlook electrical infrastructure because they are surrounded by it.
"Across Queensland we have 178,000 kilometres of overhead powerlines, 29,000 kilometres of underground cable and 1.7 million poles – if you come into contact with any of them your life could be on the line.
"There are a few key safety messages that apply whether you're working near overhead powerlines, excavating near underground powerlines or just driving in general - Look Up and Live, Dial Before you Dig, Take Care and Stay Line Aware."
Media Contact:
Phone: