Calling for more bloody legends to help save lives
Published: 30 Jun 2021 4:14pm
Every storm season Ergon Energy and Energex crews roll up their sleeves to help impacted communities, but there's also dozens of bloody legends in all parts of the businesses who help save lives all year around with plasma and whole blood donations.
"The Ergon Energy and Energex Lifeblood Team is incredibly generous," Red Cross Lifeblood Group Account Manager Rosie Barton said.
"So far their people who are registered with the team have made 682 donations and saved 2,046 lives, and we're only halfway through the year."
"They're well on track to match the 1,397 donations that claimed last year's award for the Government Category of the Lifeblood challenge."
Ergon Energy Digital Specialist Ian Dunbier is one of the 73 members who regularly donate at centres across the state – he made his 256th donation today (Wednesday 30 June).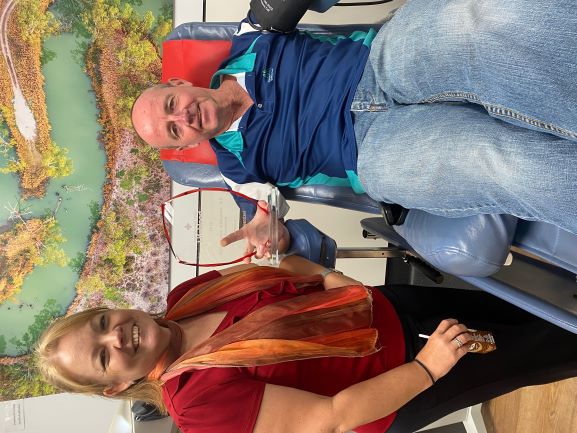 "I first donated about 17 years ago," Ian said.
"One of my colleagues used to donate regularly with her mother and was looking for someone to go with her when her mother moved away … I jokingly offered but she called my bluff."
"Now I try to donate every two weeks – I'm pretty lucky because I've managed to stay very healthy that whole time and I'm in a workplace that is really supportive."
Ian said the main reason he donates so often is because of the people he's met who required blood products that have literally saved their lives.
"I've met a few at the ceremonies Red Cross have held to celebrate donation milestones. To hear their stories to get a sense of just how grateful they are…that's why I donate," Ian said.
"I really encourage anyone who's interested in learning more about donating blood or plasma to go to the Red Cross Lifeblood website and, if they're willing and able, book a time. They'll be making a real difference to someone's life."
Rosie said Lifeblood were grateful for the support from both Ian and the wider Ergon and Energex community.
"The Highest Number of Donations - Government award is a fantastic, well-deserved achievement," Rosie said
"In Australia, we need 31,000 blood donations every week, and a new blood donor every 5 minutes, to keep up with demand.
"With donor centres all up the Queensland coast and out to Toowoomba, we'd encourage businesses across the state to join Ergon and Energex in their efforts and donate, to help save a life.'
Caption: Ergon Energy Lifeblood Donor coordinator Kylie Crouch with Ian Dunbier and the Highest Number of Donations - Government award
Media Contact:
Phone: