Bird's eye view of Magnetic Island power project
Published: 6 Nov 2020 12:01pm
Ergon Energy has released aerial images of a specialist operation to replace a faulty section of one of two submarine power cables that supply Magnetic Island.
Regional Manager Northern Networks Sonica Ghimire said it was another significant step towards returning the cable to service after a fault in September and civil works on the beach at Nelly Bay last month.
"This week the team took advantage of a window of favourable weather conditions to lay approximately 850 metres of cable, which will be secured to the seabed to reduce the risk of damage and unplanned power outages in the future.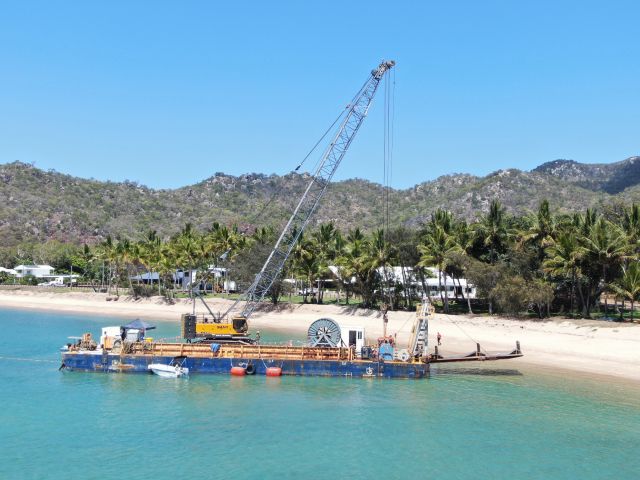 "The final step early next month will be the installation of cable joints, which are being purpose-built for these repairs," Ms Ghimire said.
Ergon continues to work closely with the Great Barrier Reef Marine Park Authority and sought its advice before undertaking a complex job in a World Heritage Area.
"We are doing everything in our power to ensure any work we do has a minimal impact on the environment, including mirroring the path of the existing cable with the new section.
"We're also working to ensure the safety of team members involved in the repairs, on land, on the water and underwater," Ms Ghimire said.
Since early September, a second submarine cable has been supplying electricity to Magnetic Island, where a fleet of mobile generation units will remain on standby as a contingency measure until the faulty cable has been safely returned to service.
"While we are not expecting any further cable faults, we are prepared to provide whatever support the community needs to ensure the continuity of their electricity supply.
"Our customers can rest assured our crews are always ready to respond to any unplanned outages, which are more of a risk in storm season," Ms Ghimire said.
Ergon is also working with key community representatives to investigate more innovative and cost-effective energy solutions for the island in the long-term.
"The community is keen to build on the legacy of the Solar City project. The technology has come a long way and we're exploring the enormous potential for renewable energy solutions that deliver an affordable, secure, sustainable and safe supply to an island community that prides itself on being environmentally-friendly and innovative," Ms Ghimire said.
DROPBOX LINK TO DRONE FOOTAGE: https://www.dropbox.com/sh/439hb5c14s6aboh/AACbH5HPqMzsdaFgXzIjjWIba?dl=0
Media Contact: Emma Oliveri
Phone: 0457 566 079