Award-winning tool to boost powerline safety
Published: 9 Oct 2019 4:33pm
Ergon Energy and Energex, as part of Energy Queensland, have won a Safe Work Award for a lifesaving tool to help industries improve powerline safety on work sites in the air and on the ground.
The online mapping application lookupandlive.com.au pinpoints the location of 178,000 kilometres of overhead powerlines and 1.7 million poles across Queensland.
Community Safety Manager Aaron Smith said the award was welcome recognition for a valuable addition to the planning toolkit in a wide variety of industries.
"Whether they're in construction, aviation, agriculture, emergency services or transport, we want to help everyone stay safe when they're operating around our network.
"Last year we had around 500 incidents involving heavy vehicles, machinery or aircraft and 72% of those were direct contacts with overhead powerlines.
"The Look Up and Live tool has enormous potential to prevent these types of incidents and save lives and we're really pleased that it's been formally recognised as Queensland's 'best solution to an identified electrical issue'," he said.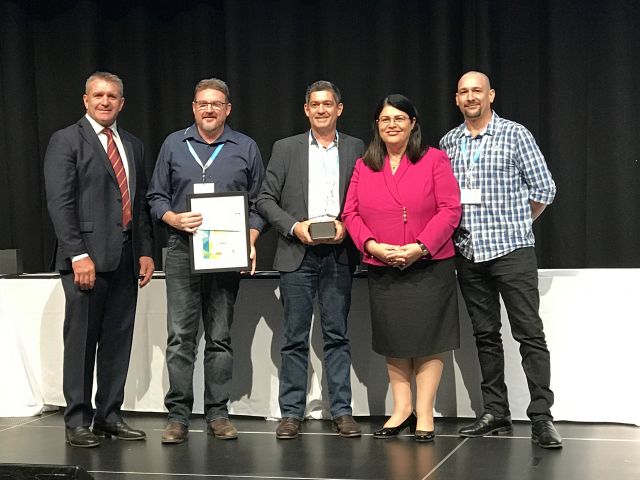 In the same way Dial Before You Dig helps customers to access maps of critical infrastructure underground, the Look Up and Live tool highlights the risks overhead.
"We all know the importance of preparing for a job and mitigating any risks – knowing the location of powerlines and the exclusion zones that apply should be an essential part of planning.
"The beauty of the overhead powerline mapping tool is it's accessible from mobile devices, you can print out maps to include in site induction kits and there are quick links to request free safety advice or powerline markers.
"The aviation industry has described the lookupandlive.com.au tool as a game changer – it's exciting to see technology being used to help people stay safe and we'll continue working with industry to improve powerline safety," Mr Smith said.
PICTURED: Ergon Energy's Glen Cook, Aaron Smith and Jason Beasley with Queensland Safety Ambassador Shane Webcke and Industrial Relations Minister Grace Grace at the Safe Work Awards in Brisbane.
Media Contact: Emma Oliveri
Phone: 0457 566 079