Aspiring apprentices urged to apply now
Published: 10 Aug 2021 10:43am
Ergon Energy and Energex are looking for the next generation of tradespeople, with applications for apprenticeships closing on Monday (August 16).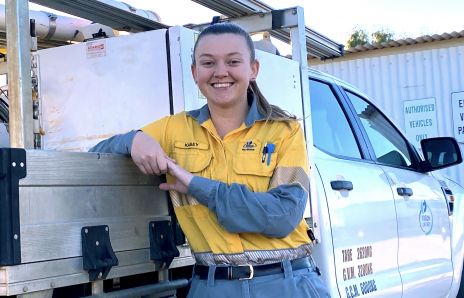 Queensland's publicly owned electricity network distributors will be welcoming 116 new apprentices early next year, with opportunities at 50 depots.

Apprenticeships will be available for electrotechnology electricians, distribution linespersons, mechanical fitters, and communication techs.
While these roles are hotly-contested chances for aspiring tradies to learn and earn in their own communities, they can also be a stepping stone into senior industry careers for those interested in pursuing this path.
"Some people want to earn their qualifications and serve their community using their specialised skills to keep the lights on, the network running well, and delivering outstanding service under some pretty extreme conditions, from cyclones to bushfires, and that's fantastic," Executive General Manager Services Belinda Watton said.
"Other people might find themselves attracted to undertaking further study or work experience when they've completed their apprenticeships, and our company has a great track record in encouraging and supporting these aspirations.
"We have former apprentices who have gone on to complete degrees in engineering, business and other disciplines, and who are in senior leadership roles, and it was an apprenticeship that started the ball rolling."
The only age requirement is that applicants need to be aged 17 or older when they begin their apprenticeships next February. People with good year 12 maths and English results, those who hold a Cert II in electrotechnology or other prevocational training, or with strong, relevant work records are encouraged to apply. Successful applicants will undertake training for an initial four-week block in early 2022 before heading to their home depots to begin their careers in the field.
Ergon apprenticeships will be available at Atherton, Barcaldine, Bundaberg, Cairns, Chinchilla, Clermont, Cunnamulla, Georgetown, Gladstone, Hervey Bay, Home Hill, Hughenden, Ingham, Kingaroy, Mackay, Mareeba, Maryborough, Miriam Vale, Moura, Mount Isa, Normanton, Pinnacle, Proserpine, Rockhampton, Roma, Sarina, St George, Stanthorpe, Toowoomba, Townsville and Yeppoon.
Energex apprenticeships will be offered at Banyo, Beaudesert, Berrinba, Boonah, Caboolture, Cooroy, Esk, Gatton, Geebung, Greenslopes, Gympie, Landsborough, Maroochydore, Oxley, Raceview, Southport, Stafford, Staplyton and Victoria Park.
Applications will close on Monday, August 16. Full details of eligibility requirements, and the process at https://www.ergon.com.au/network/help-and-support/careers/apprenticeships.
Media Contact:
Phone: