A heartfelt safety message for the crushing season
Published: 9 Jun 2020 3:17pm
When Ergon Energy's Mark Biffanti talks about the importance of powerline safety on farms, it comes from the heart.
The Burdekin-based Area Manager grew up on a cane farm in upriver Home Hill and has family and friends in the sugar industry.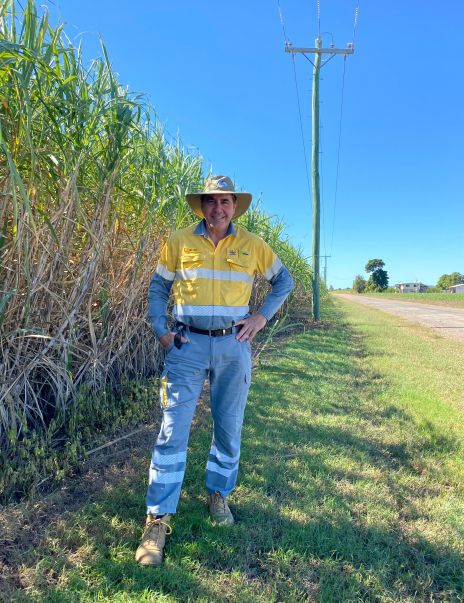 After 20 reported machinery contacts with the overhead network during the last crushing season in Queensland, Mark is urging everyone to take care and stay line aware.
"Powerlines can be lethal and we know the ripple effect workplace accidents have on families, workmates and the community.
"We want everyone to stay focused and stay safe so that at the end of their shift they can go home to their loved ones.
"We all need to take safety personally because lives are on the line when vehicles and machinery contact the electricity network.
"There were 12 incidents involving cane harvesters and eight incidents involving haul-outs last season, which is down on previous years, but there is obviously a lot of room for improvement," he said.
Mark said cane harvester and haul-out operators would benefit from planning ahead with Ergon's award-winning overhead powerline mapping application at www.lookupandlive.com.au, where you can access printable maps, request free safety advice or order powerline markers.
"It's a handy tool to help you map out the risks, so you know where those power poles and wires are, especially if you're operating machinery in unfamiliar territory or the entry and exit points around the paddocks have changed.
"Most of us have mobile phones these days and free, lifesaving safety advice is at our fingertips," Mark said.
For cane harvester and haul-out operators working in shifts around the clock, situational awareness is also critical.
"Sometimes people are so focused on the task at hand they don't see the inherent dangers out there.
"You really need to look out for powerlines when you're cutting cane because they can blend into the surroundings, but the risk is real and if you ignore it the consequences can be devastating.
"If you are involved in an incident that brings down powerlines, stay in the vehicle, call 000 and wait for help."
Media Contact: Emma Oliveri
Phone: 0457 566 079