Powerline vandals risk lives
Published: 7 Oct 2020 4:32pm
After another senseless act of electricity network vandalism in the Far North, Ergon Energy's Area Manager Charlie Casa is warning people's lives are at risk when objects are thrown at powerlines.
"A set of headphones entangled in powerlines at Kowanyama could easily have ended in tragedy.
"When you throw anything at powerlines and it makes contact, you're risking your own life, the community's safety and a lengthy power outage.
"We cannot stress this enough – electricity can kill if you don't take care and stay line aware," Mr Casa said.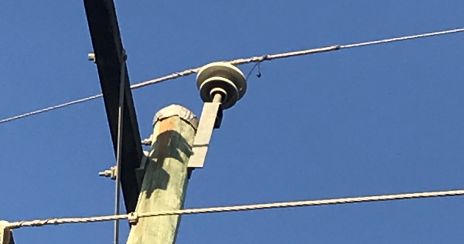 For the community's safety, the affected area was barricaded overnight and Ergon crews flew in this morning to remove the electrical hazard and inspect the network for damage.
Every year crews across the state respond to similar community safety incidents, despite repeated warnings about the dangers of throwing objects at powerlines.
"It doesn't have to be a large, heavy object to do damage - these headphones had the potential to spark a pole fire and cause powerlines to come down, which is a life-threatening hazard.
"If you see fallen powerlines, remember to stay well away, warn others in the area and report them to emergency services on 000 or call Ergon on 13 16 70," Mr Casa said.
Ergon is also urging people to report any network vandalism.
"Electrical safety is everyone's business – it's about saving lives."
Media Contact:
Phone: